Tuscan raw hams
Here we have the Tuscan raw hams collection and wanted to select our best Tuscan raw hams, The excellence and tradition, in a collection of the highest quality, you can see the Cinta Senese dop raw ham, or the classic Tuscan raw ham dop, without forget the boneless ham aged 16 months (one of my favorites), in short, there is neither for everyone.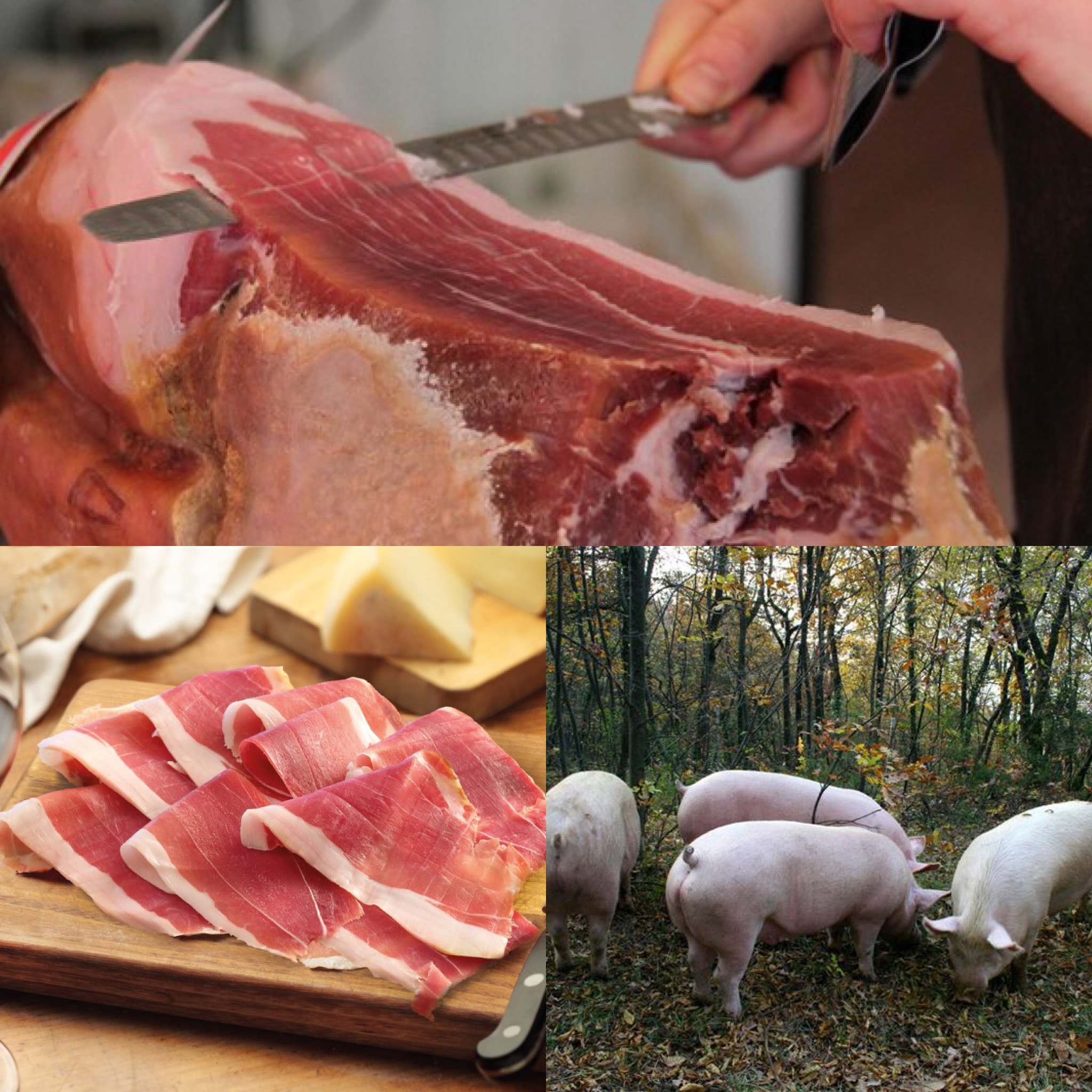 The history of raw ham
THE TRADITION The processing of Tuscan Raw Ham dates back to the Middle Ages. Already in the 9th century on winter days, on the hills surrounding Arezzo, Siena and Grosseto, peasant families used to participate in a ceremony, almost a sacred rite: the killing of the pig. It was a day of celebration, which was celebrated with great binges, songs and dances and which provided meat to be preserved, in the form of meats, for a whole year, allowing families to overcome the harsh winters. However, it was around the fifteenth century, under the Medici, that the production of ham was regulated in all its phases, with rules still applied today which may well be called a sort of disciplinary ante litteram. Also in the 15th century, the Officers of Grascia, a Florentine magisterium in charge of supervising the application of the "right price", were instructed to monitor compliance with the production standards. This collection Tuscan raw hams and the best of Tuscan delicatessen, the quality is breathed and you can see it immediately. The raw hams are shipped in 24/48 hours, we do not vacuum seal them, we wrap them up and put them in special boxes for food.
---
10 products
Prodotti eccellenti
Abbiamo acquistato vari prodotti,tutti molto buoni, tra questi anche il prosciutto crudo che non era buono , ma di più! Salato e stagionato al punto giusto. Complimenti sicuramente rifaremo un altro ordine.
ottimo prodotto
ero andato in toscana qualche tempo fa, direi che questo prosciutto toscano è di ottima fattura sicuramente ne comprerò ancora da loro
Semplicemente buonissimo
Prodotto come da descrizione, molto buono da ricomprare
Buona la sistemazione per il trasporto
Buono il prodotto. A me piace più tirato, ma lo terrò un po' attaccato. Grazie alla prossima
Ricevuto ieri oggi iniziato ottimo farò senz'altro altri acquisti. Ordinato Domenica arrivato Mercoledi pomeriggio.
Prosciutto Crudo disossato 7.5Kg
Prosciutto squisito
Prosciutto molto buono, ben stagionato, saporito, magro. Da riprendere sicuramente.
Ditta molto seria
Prodotto ottimo, abbiamo avuto un contrattempo con la merce che è arrivata, ma l'azienda si è dimostrata molto seria e veloce a risolvere il problema. Il prodotto è ottimo.
D a riprovare +++
ottimo prodotto e azienda molto seria
Prodotto ottimo!!!
Molto buono tutto dalla consegna al prodotto stesso
Deliziosa
Veramente buona, stagionata al punto giusto!!
prosciutto
ottimo come sempre buono e saporito
Prosciutto crudo disossato
Buon prodotto, magari ancora un po' fresco, ma gustoso.
Non ho ancora aperto e assaggiato il prosciutto l'hò appeso in cantina ancora per un paio di mesi.....il profumo è gradevole appena lo assaggerò certamente commenterò la sua qualità e il suo gusto....spero di rimanerne soddisfatto per i futuri acquisti....
Ottimo
Ho voluto provare ad acquistare questo prosciutto...
Uno spettacolo!!Un sapore e un profumo esagerato!Da oggi sarà uno dei miei acquisti fissi!Complimenti a voi!
E' la prima volta che faccio acquisti da voi, l'esperienza è stata positiva , sia per la qualità dei prodotti che per la consegna
Consigliato
Arrivato in 48 ore, un bellissimo trancio di cinta senese , veramente sublime, gustoso e un sapore indescrivibile, bravi, ci sentiamo presto.
Ottimo
Acquistato e molto soddisfatto di averlo fatto, la qualità è ottima un bel trancio abbondante sottovuoto, spedizione rapida, consigliato.
vi sapro' dire tra 4-5mesi quando sarà ulteriormente stagionato.
Prosc. Toscano 18 mesi
Complimenti, prosciutto di mio gradimento molto buono. Merita 5 stelle.
Prosciutto Crudo Toscano DOP 18 mesi 10Kg
Un acquisto eccellente
Prodotti squisiti prezzi ottimi spedizione veloce.
Ottimo
Sicuramente un prosciutto di alta qualita', si sente il sapore del cinghiale, deciso e saporito, complimenti
Ottimo
Sicuramente un prosciutto di alta qualita', si sente il sapore del cinghiale, deciso e saporito, complimenti
Salatissimo
Molto buono ma molto salato
Una goduria
Questo è un prosciutto di una bontà divina, tagliato a mano è perfetto, i 24 mesi si sentono in bocca perfetto.
Tutto ok
È stato un po' un salto nel buio, perché non vi conoscevo, ma tutto è stato perfetto, spedizione puntuale, prosciutto eccezionale, il grasso è una prelibatezza, ci rivediamo al prossimo ordine.
Eccellenze Toscana
Sono rimasto sbalordito dalla qualità di questo prosciutto, lo avevo assaggiato diversi anni fa in Toscana, ma non ricordavo che fosse così buono.Il grasso si scioglie in bocca e si sposa con la parte sapida un esplosione di gusti e sapori, raccomandato agli amanti dell eccellenze toscane.
Speciale
Ho assaggiato il Prosciutto di cinta senese dop, veramente una delizia, ero molto dubbioso per onestamente il prezzo è molto concorrenziale, e da ristoratore devo dire che mi sono ricreduto, bravi.